01 Aug

Climate Action: 5 Reasons Why the World Should Combat Climate Change

Climate action is effort and action taken to overcome and/or reduce the adverse effects of climate change. If no action is taken, the consequences of climate change are irreversible, and the effects will be even more drastic.

Climate change can trigger extreme weather events, exacerbate water management problems, reduce agricultural production and food security, disrupt basic availability for water and sanitation, education, energy, and transportation. In the end, if this continues to happen, it will increase the health risks of living things to survive.
Climate action may seem like too early action because the goal is to prevent the problem from getting worse in the future. This is like an investment that takes years to get the desired results.
Selfishly, maybe we will ask if this climate change will affect me? Why should I go to the trouble of doing so much climate action for something we don't even know for sure?
Know that the present moment is an opportunity to limit the worst impacts. The United Nations has presented supporting data and declared in the 13th Sustainable Development Goal, "take urgent action to combat climate change and its impacts."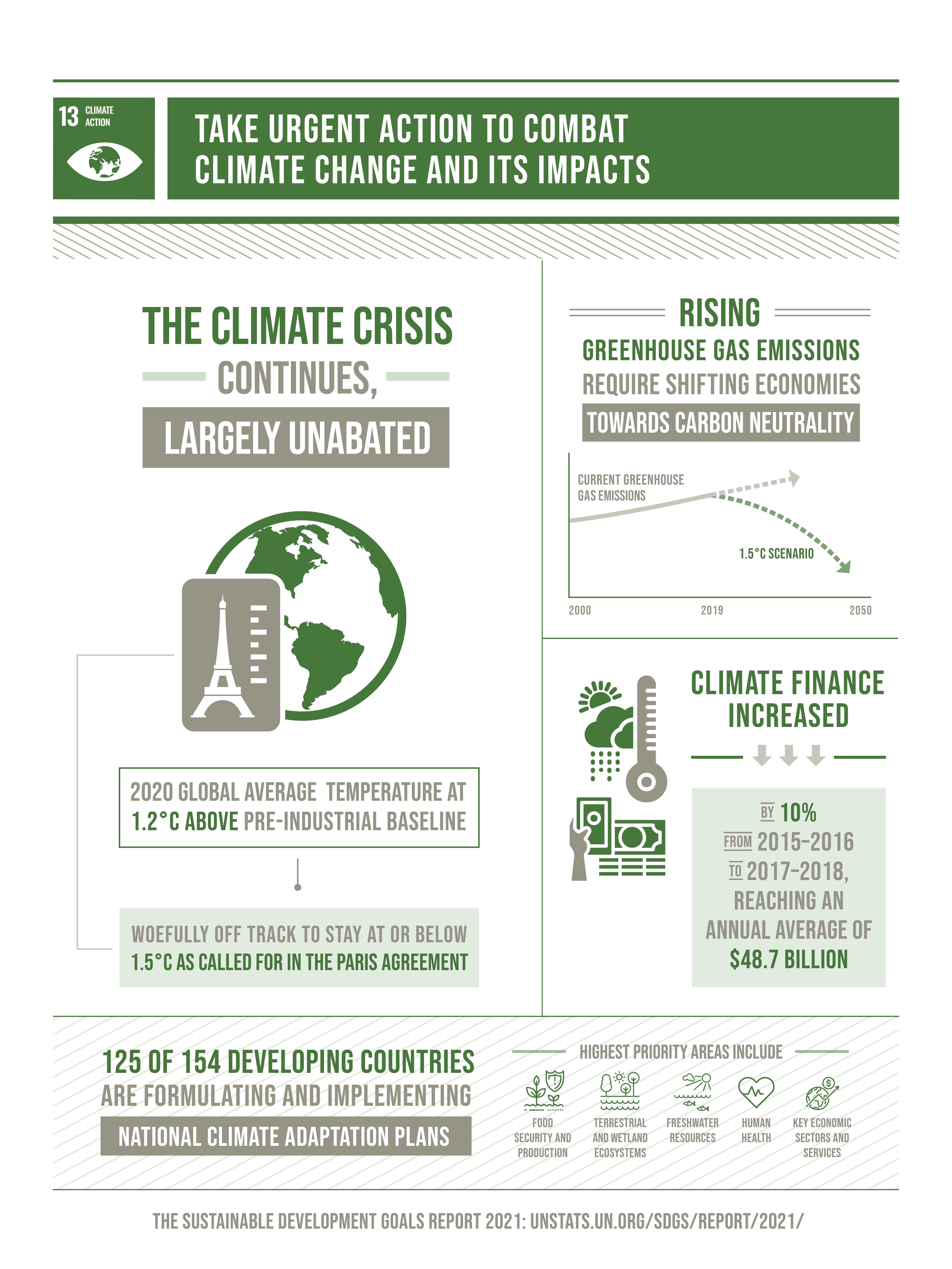 Facts on the Need for Climate Action
This earth already has the highest concentration of carbon dioxide in human history, as of May 2020 as much as 416 parts per million. Deforestation accounts for 11% of global greenhouse gas emissions, which is comparable to emissions from vehicles. Worse, 800,000 hectares (mangroves) are lost every year, which results in the loss of buffers from extreme weather for coastal communities, and this also causes large amounts of carbon dioxide to be released into the atmosphere.
NASA data shows 2019 was the second-warmest year ever with the average global temperature being 1.8 degrees F (0.98 degrees C) warmer than the 20th-century average. The hottest years have all occurred since 2015.
As temperatures continue to warm, the oceans also warm, and the amount of snow and ice melts increases, causing sea levels to rise. From 1901 to 2010, the global average sea level rose 19 cm and the area of Arctic sea ice decreased every decade since 1979. From 2018 to 2019, the global sea level rose 0.24 inches (6.1 millimeters).
Nature-based solutions are not fully utilized at only 3% of climate finance. For example, in the Maldives, preserving coral reefs naturally is four times cheaper than building sea walls for coastal protection. This means saving nature with nature without man-made intervention is much cheaper in terms of handling and financing.
The world's population is currently vulnerable to the effects of climate change, such as droughts, heat waves, floods, extreme weather and sea level rise.
Climate Action in the Sustainable Development Goal 13
Quoted from the United Nations SDGs, the following are the 13th target goals:
13.1 Strengthen resilience and adaptive capacity to climate-related hazards and natural disasters in all countries
13.2 Integrate climate change measures into national policies, strategies and planning
13.3 Improve education, awareness-raising and human and institutional capacity on climate change mitigation, adaptation, impact reduction and early warning
13.A Implement the commitment undertaken by developed-country parties to the United Nations Framework Convention on Climate Change to a goal of mobilizing jointly $100 billion annually by 2020 from all sources to address the needs of developing countries in the context of meaningful mitigation actions and transparency on implementation and fully operationalize the Green Climate Fund through its capitalization as soon as possible
13.B Promote mechanisms for raising capacity for effective climate change-related planning and management in least developed countries and small island developing States, including focusing on women, youth and local and marginalized communities.
This goal is reinforced by The Paris Agreement on Climate Change, which was officially adopted in 2015, providing an opportunity for countries to strengthen the global response to the threat of climate change. The commitment took effect on November 4, 2016, to keep temperature rises to no more than 2 degrees Celsius and further efforts to limit temperature rises to 1.5 degrees Celsius.
Therefore, scientists who monitor climate change continue to encourage world leaders to commit to the Paris Agreement and find more urgent warning signs. Peter B. de Menocal, Columbia University climate scientist, said that climate change is affecting global instability, a fundamental insecurity for people's lives and livelihoods. Climate action is urgently needed, the world is increasingly fragile and climate action can help trigger flashpoints. Because in the end, targeted climate action can reduce the adverse effects of climate change that affect all aspects of human, animal and plant life, as well as other natural resources.
Read also: Adorable and Rare Land-Dwelling Animal that Almost Extinct, There are 5 of Them Here – Comuniti
Bibliography
Goal 13: Climate action | UNDP in Indonesia
GOAL 13: Climate action | UNEP – UN Environment Programme
10 reasons why we should all care about climate change | WWF
Climate Change – 11 Facts You Need To Know (conservation.org)
Climate Change: Global Sea Level | NOAA Climate.gov
Five Reasons We Need To Act Now on Climate Change (nationalgeographic.com)